***POSTPONED***
The COUNSELLING CONVENTION due to take place in Kuching, Malaysia in August 2021 has been postponed and new dates for Kuching 2022 will be announced in the Spring of 2021. Those already registered are free to receive a FULL REFUND or to remain registered and attend at the 2021 dates. 
The 2022 convention will contain an exceptional line up of Keynote speakers, Presenters, Discussion Groups, Posters and Social Activity. Please find some convention information below. We look forward to a wonderful event. 
Organising Partners: This convention is being organised by three prestigious Malaysian organisations (PERKAMA International, the Sarawak State Government, and the University of Malaysia-Sarawak) and IAC as the International partner. 
Convention Name: ICC2022 stands for: International Counselling Convention 2022
Convention Theme:
 'Contemporary Issues in Counselling'     
Convention Sub Themes:
HERE
Convention Dates: To be decided.
Convention Venue: ICC2022 will be held at the Riverside Majestic Hotel, Kuching, Sarawak, Malaysia.
Accommodation: All convention attendees are responsible for all aspects of their own travel arrangements and accommodation. Special room rates have been negotiated with the Riverside Majestic Hotel and the Kuching Hilton Hotel. The Hotels are located beside each other. A block of rooms will be reserved or the convention dates. 
Special Rates (limited Avaialability): 
Single Room:   283 MYR per night, not incl. breakfast  ($90 CAD Approx.)
Double Room: 311 MYR per night, not incl. breakfast  ($100 CAD Approx.)
Booking can be made directly on the Hotel website: HERE                All other enquiries to the Hotel: kuching.info@hilton.com
Paper Submission Process: The Abstract/Proposal submission deadline  will be announced. 
Convention Fees / Registration / Payment: The 2021 convention fees (including lunches and breaks) are listed in CANADIAN DOLLARS (CAD) below:
IAC Member (Early Bird) =                                                 $ 595 CAD 
IAC Member (Early Bird) + Pre-Convention =                 $ 710 CAD
Non-Member (Early Bird) =                                               $ 785 CAD
Non-Member (Early Bird) + Pre-Convention =               $ 900 CAD
IAC Student (Early Bird) =                                                   $ 390 CAD
IAC Student (Early Bird) + Pre-Convention =                   $ 475 CAD
Non-Member Student (Early Bird) =                                 $ 480 CAD
Non-Member Student (Early Bird) + Pre-Convention = $ 565 CAD
After March 10, 2021, the fees will be as follows:
IAC Member =                                              $ 680 CAD
IAC Member + Pre-Convention =                 $ 795 CAD
Non-Member =                                             $ 885 CAD
Non-Member + Pre-Convention =                $ 995 CAD
IAC Student =                                              $ 475 CAD
IAC Student + Pre-Convention =                 $ 560 CAD
Non-Member Student =                               $ 565 CAD
Non-Member Student + Pre-Convention= $ 650 CAD
The fees include: 
Food: One lunch and two tea-breaks (coffee/tea, 2-3 small finger foods) on each convention day. 
A Complimentary State Dinner on the evening of the 11th of August 2021. (Dress Code: Formal and/or Traditional Dress). The Convention Keynote will be delivered at this event.
A programme kit comprising of the ICC2021 Programme, Lanyard, Nametag, ICC2021 Souvenir and ICC2021 Tote bag.
Convention attendance certificate.
Registration Process
Once you are registered for the convention you will be guided through a few questions (e.g. are you a member of IAC?, are you a student?) to establish the correct registration fee. You can also confirm the fees by looking at the fee list above.
Payment Process: There are two payment options: By Bank Transfer, or by Credit Card. 
If you wish to pay by Credit Card this is done on our Credit Card Payment Page. This facility has been generously offered by our Canadian convention partners -- Life Strategies Ltd -- using their PayPal system. It is NOT possible to pay by credit card on the convention website. Please complete your payment by adding your item (registration type/amount) to your shopping cart and by using the PayPal option during checkout to complete your transaction - thus paying via credit card. Fees include a 3.1% processing fee. Please note the amounts shown are in Canadian Dollars ($CAD) not US Dollars ($USD). NOTE: You do not need a PayPal account to proceed; you can proceed without logging in. The PayPal system is the system we use to collect and securely process credit card payments.
Conference fees for IAC members (Professional, Student and Retired categories only) are significantly lower than for non-members. Joining IAC will save registrants money overall. Details of IAC membership can be seen on our Membership Page.
For those who wish to register a large group (minimum of 10 persons) for the convention, please contact the ICC secretariat (secretariat@icc2021.my) directly to negotiate a discounted rate.
ICC2021 Convention Cancellation Policy: Written notice of cancellation must be sent to the ICC secretariat (secretariat@icc2021.my) no later than July 5th 2021 to obtain a refund. An administration fee of 150 MYR ($50 CAD) will be deducted from the refund, which will be issued after the convention. For student registration, a 95 MYR ($30 CAD) administration fee will be deducted from the refund. No refunds will be issued for cancellations made after July 5th 2021. Registration is transferable. Delegate Substitutions – If you are unable to attend the convention after registering, you may send someone in your place. You must submit the person's name and contact information in writing to the ICC secretariat (secretariat@icc2021.my). If you are an IAC member and your replacement is a non-member, the fee difference must be paid.
Social Media: Our Malaysian partners welcome you to connect with them through Facebook (International Counselling Convention 2021) and Instagram (ICC2021_IAC2021).
Enquiries: Please contact the ICC2021 Secretariat (in Malaysia) with any enquiries at: secretariat@icc2021.my
Visa and Customs Information: Please see HERE 
If you require a Conference Invitation Letter - Please see HERE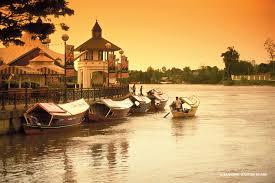 About the Location: Kuching, Sarawak, Malaysia, offers a plethora of Malaysian culture, adventure, nature, food, and sights not to be found anywhere else in the world. Kuching is the beautiful capital city of the state of Sarawak -- located in the northwest of Borneo Island. Direct international flights to Sarawak are limited and international visitors to Sarawak usually take a connecting flight from either Kuala Lumpur, Brunei, Singapore or Pontianak in Indonesia. Whether visiting Kuching museums, experiencing the lifestyle of one of the many indigenous communities' longhouses, or exploring gigantic caves in the UNESCO World Heritage site of Gunung Mulu National Park, Sarawak offers a host of memorable experiences to bring home.