IAC World Regions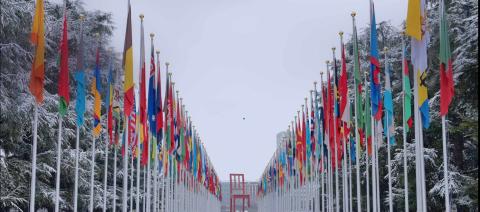 IAC has a regionalized structure (IAC Africa, IAC Europe, IAC Asia-Pacific, IAC North America, IAC Latin America and the Caribbean, IAC Middle East and Central Asia), and our work-plans in those regions focus on the following priority areas:
Advocacy for the Counselling Profession with Regional and U.N. Bodies: IAC supports its members by providing a united global voice for counselling. IAC contributes to formal United Nations (U.N.) deliberations through it various statuses (consultative, special and general) with U.N. organizations such as the Economic and Social Council of the United Nations(ECOSOC), the World Health Organization (WHO), the United Nations Educational, Scientific and Cultural Organization (UNESCO), the United Nations Children's Fund (UNICEF), and the International Labor Organization (ILO). Regionally, IAC also works with continental and supranational bodies such as the African Union, the European Union and the Association of Southeast Asian Nations. National Association representatives -- from member associations -- assist us with this important work.  

Agreeing Region-Wide Counselling Standards: In collaboration with National Associations and other stakeholders, we aim to develop policies that promote best practice outcomes. IAC's structure enables region-wide discussion and agreement on counselling standards to take place -- in an effective and organized way. We are mindful of the fact that the educational experience and policy framework in different countries varies significantly -- and we work with our partners accordingly. 

Supporting National Associations: IAC works with national association partners to assist them to reach their advocacy, standards and recognition aims. 

Advocacy for the Legal Recognition of Counselling (where not in place): Working in groups made up of representatives of our member associations, IAC represents the profession (to International Organizations and Governments) to have counselling better, and legally, recognised as a profession. We do this by working closely with Regional Bodies (e,g the European Union, the African Union etc..). Recognition of the profession at regional and global levels is a central component of national/local level recognition and regulation. In some countries there is no counselling at all. IAC helps to establish counselling structures, (e.g. National Associations or Education Programmes) in those countries. 

Assisting in the development of counselling in countries (where there is currently none).

Education, Research and Practice Programmes: We have a wide range of activity including Conferences, Continuing Education (courses, webinars), Research (e.g.,World Mapping of the Counselling Profession), an International Counselling Journal (since 1978), Roundtables, Memberships (Click HERE) and much more.  
Regional Contacts: 
Regional Development Chairperson: Dr. Dione Mifsud: dione.mifsud@um.edu.mt 
IAC Associations' Rountable Coordinator: Mr. Ethan Weston: eweston@ccpa-accp.ca
IAC Africa: Mr. Dominic Nsona: Dominic.nsona@gmail.com 
IAC Europe: Ms. Suzanne Mohnani: suzanne.mohnani@hotmail.com
IAC Asia-Pacific: Dr. Philip Armstrong: philip@theaca.net.au   and Dr. Anasuya Jegathevi Jegathesan: anasuya@cyberjaya.edu.my
IAC North America: Dr. Matt Lyons: matthew.lyons@ucumberlands.edu
IAC Latin America and the Caribbean: Ms. Anna Maria Mora: tiaga.san@gmail.com 
IAC Middle East and Central Asia: Mr. Kabeer N.V.  kabeerenv@gmail.com 
Each region has its own autonomous Regional Committee to whom four Working Groups (Standards, Advocacy, Governance and Finance) report.