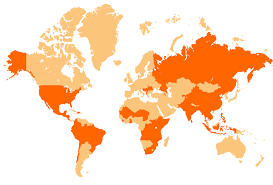 2016 - IAC Strategic and Structural Developments
 In 2016, IAC has taken the following five major strategic and structural developments:
 1.      IAC has enhanced its organisational structure to ensure global and inclusive representation from each of eight designated world regions: Asia, Africa, Latin America, Caribbean, Oceania, Europe, North America and the Middle East.
2.      IAC has elected eight Regional Members, one from each of the aforementioned world regions, to the IAC Executive Council. The regional members will represent IAC in their particular region and advance the central aim of IAC, namely, to advance the field of counselling through Practice, Education, Advocacy, Policy and Research initiatives.
3.      The IAC Executive Council a new strategy (IAC Strategy 2016-2021) which commits IAC to advancing the field of counselling worldwide in order to promote health, well-being, respect, social justice and peace. Through this strategy, IAC will promote the application of counselling knowledge and skills to enable the resolution of personal, societal and global challenges. The strategy sets out the Association's specific aims and actions that will enable the strengthening of our International, National and Organisational partnerships and the utilisation of IAC's global connections and technology in order to continue serving as a uniting global voice for counselling.
 4.     The IAC Executive Council has appointed Mr. Naoise Kelly as Chief Executive Officer (acting) to enhance the overall leadership, operations and administration of IAC. The CEO Is tasked with the planning, communicating and execution of the organisational strategy and operations in a manner consistent with its mission, vision, ethos and values.
 5.     The IAC Executive Council has approved the wider engagement of counsellors, counsellor educators, policy makers, national counselling associations and kindred professions in the areas of mental health and education through offering a new range of membership and partnership possibilities.
Thank You.
1) Website Changes:
Thank you for visiting the IAC website. IAC is an international non-governmental association with charitable status. IAC advances the development of counselling, in order to improve people's lives and well-being. We connect counsellors worldwide so that they can share information and participate in international Practice, Education, Advocacy, Policy and Research counselling projects. IAC was established in 1966 and has consultative status with United Nations organisations including UNESCO, the World Health Organisation and the International Labour Organisation.
Over the coming weeks we will be enhancing parts of our infrastructure - including this website.
2) Membership:
Would you like to: 
Connect and share experiences with other Counsellors around the world?
Support the development of counselling worldwide?
Receive an IAC Newsletter, a personalised IAC Logo for use on your materials, the IAC Journal, attend Webinars and attain many other Professional and Educational Benefits?
Participate in IAC Round-Table discussion groups?
If so, please read more in our 'Membership' section. New memberships actegories available here: http://iac-irtac.org/?q=node/11
Becoming a Member of IAC assists the Development of Counselling Internationally
The vision of IAC is "A world where counselling is available to all". Counselling can and should be offered more widely; it can improve people's lives and can make a significant contribution to alleviating world difficulties. Here are some other reasons to join:
You are joining a Movement – counselling changes lives for the better and reduces suffering. Our humanitarian movement advocates for more access to counselling.
IAC has consultative status with International organisations (e.g. UN, WHO, ILO) and represents the voice of counselling at the international decision making level.
IAC seeks to work with International NGOs that send people to the world's problem areas (e.g. to help in the aftermath of terror and refugee catastrophes), in order to increase the role and contribution of counselling.
IAC lobbies and influences governments and other International organisations to have counselling better recognised as a profession.
In some countries there is no counselling at all. IAC can help to establish counselling structures, (e.g. National Associations or education courses) in those countries.
IAC is working to advance the counselling movement worldwide and can do with your help.
Thank You