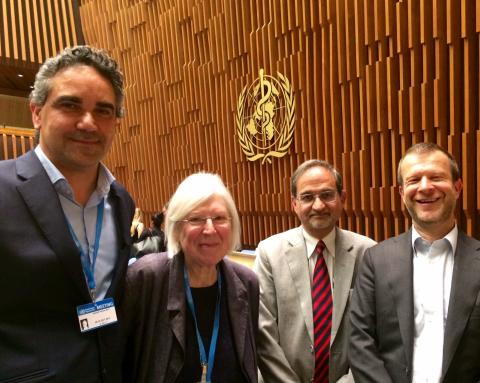 Pictured (R to L) are: Dr Mark van Ommeren - Public Policy advisor at the WHO. Dr Van Ommeren will be speaking at the IAC conference in Italy, in 2018. Beside him is Dr Shekhar Saxena - Director of the Department of Mental Health and Substance Abuse at the WHO. Next is Ann Lindsey – Chair, Mental Health F4H, Geneva. IAC is very grateful to Ann for representing IAC at the WHO for 10 years, until 2010. On the far left is Naoise Kelly, CEO of IAC. More photos can be viewed on the IAC Facebook page.
IAC was pleased to attend the 2017 WHO mhGAP Forum. The two days of activity provided an excellent opportunity for a diverse group of mental health stakeholders to discuss a variety of issues, all related to the implementation of WHO's Mental Health Action Plan 2013-2020. The Forum's theme and focus – Mental Health in the workplace – was discussed and the WHO launched an mhGAP app (available on ios only for now) on World Mental Health Day (10th October). The Forum included time available for informal networking.
At the above link you will find several WHO resources that aim to help reduce the mental health treatment gap and to enhance response to the large burden of mental, neurological and substance use disorders worldwide.
IAC wishes to gratefully acknowledge the WHO for their invitation to participate at this outstanding event. We greatly look forward to enhancing our partnership and collaboration with WHO and its many initiatives.