IAC Certification of Counsellor Educuation Programmes
      Welcome to the IAC Certification Page
      Value of IAC Certification 
Demonstrates Commitment to the International Dimension of Counselling Education

Marketability -  Of Interest and Appeal to International and Internationally-minded Students

Communicates Your Values to Students, Faculty, Partners and Stakeholders

Elevates and Distinguishes your Programme from Others

Highlights Quality of International Programme

Value of Prestigious Partnership with IAC

Low-Cost and User-Friendly Online Application
All details of IAC Certification can be read HERE  
Fill in the Online Application Form Here
What is IAC Certification?   
      Certification is awarded to education programmes/courses, of IAC Education Institute members, in recognition of a validated commitment to raising counselling standards through: international learning and exchange, the promotion of cross-cultural awareness in counselling and respect for diversity.
      In many cases, counselling/psychotherapy/psychology educators and leaders want to outwardly showcase their institution's commitment to the international dimension of counselling. Many also wish to raise the appeal of their education programmes to potential students - including the burgeoning international student market. In addition, recognition by a prestigious international counselling body, assists in bringing deserved, additional, credibility to high quality programmes. For IAC, raising the standard and quality of education programmes worldwide, through awarding our certification, directly aligns with our central aim of advancing counselling worldwide. IAC Certification brings with it multiple benefits that go far beyond the enhanced status of successful certification. These include the creation of multiple opportunities for international collaborative research, networking, and exchange.                 
      Fill in the Online Application Form Here
      For all enquiries relating to IAC Certification, please contact: ceo@iac-irtac.org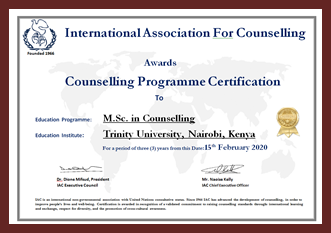 Thank You