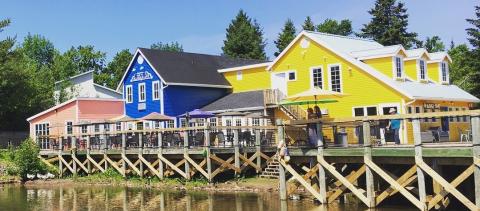 Social Activities at the Moncton 2019 CCPA/IAC Conference
There will be plenty of fun and activity for conference delegates. Moncton will show you what the city has to offer – all at special rates!   Join us on Monday, May 13, 2019 and Tuesday, May 14, 2019. Make your selection when registering for the conference! Space is subject to availability. (Times attached to each activity include transportation to and from the hotel)
Tours Include:
Guided Hopewell Rocks & Bay of Fundy Costal Tour ALL-DAY ACTIVITY! Monday, May 13, 2019, Duration: 9 hours
$200 **The cost of lunch is not included in the price of the tour**
This is a one-of-a-kind bus tour! You'll see the very best of the Bay of Fundy's magnificent coastline and experience the world's highest tides while visiting the Hopewell Rocks (low and high tide), Fundy National Park, Cape Enrage, lighthouses, covered bridges, and much, much more! Transportation for the tour is included in the cost, as well as all entrance fees.
Magnetic Hill Wharf Village & Restaurant     Tuesday, May 14, 2019, 6:15pm
$30 (Includes transportation and a casual diner – menu to be determined)
From delicious food (restaurant, Café, ice cream, fudge and an Atlantic focused general store), shopping, local artisan talent (from the four Atlantic provinces and beyond) and our friendly East Coast people, our hope is that every visitor leaves the Wharf Village feeling good in their souls, full in their bellies, and happy with a keepsake to remember their visit to the Magnetic Hill Wharf Village.
Magnetic Hill Winery Private Tour -Tuesday, May 14, 2019, 6:15pm
 860 Front Mountain Rd. Moncton, NB.    $25 (Transportation included)
A two-hour event includes presentation on the restoration of the 1867 historic property, interesting wine facts, and a tour of the winery. You will have samples of each wine and learn about the appropriate food pairings. There is also a social time as you sip and savour your selection of wine, local cheese and crackers.
All About Moncton Walking Tour -Tuesday, May 14, 2019, 6:00pm     $10
Get an insider's scoop on the City of Moncton during a guided walking tour. Highlights include the Petitcodiac River, Treitz House, Times Building, Aberdeen Cultural Centre, Notre-Dame-de-l'Assomption Cathedral and much more.
______________________________________________________________________
Welcome to the CCPA/IAC 2019 Conference 
The CCPA / IAC 2019 Conference will be held from May 13 – 16, 2019 at the Delta Beauséjour Hotel in Moncton, New Brunswick, Canada.
Discounted Conference fee for IAC and CCPA Members - Join today!
 ***REGISTER HERE*** Early Bird before January 31st 2019
 We are delighted to be partnering with our collegues at the Canadian Counselling and Psychotherapy Association (CCPA).
The conference aims to:
    Develop the field of counselling in Canada and internationally

    Facilitate the professional development of people working in the field

    Promote the exchange of theories and research in counselling

    Encourage the exchange of ideas and information among delegates, as well as between delegates and the CCPA and IAC Leadership
All details of the conference can be seen HERE
The paper submission process is now closed. Those who have submitted papers will be contacted in early December 2018
  *** KEYNOTE SPEAKERS *** The excellent Keynote speakers will be: 
Stel Raven on Queering and Decolonizing Trauma Work: A Path for Two-Spirit Wellness
Réginald Savard on The Counselling and Psychotherapeutic Bond and Rupture
Dr. Andrea Burry on Cannabis: Essentials for Practice?
Mark Henick on The Mentally Healthy Campus
Nora Spinks on Families in Canada: What, So What, Now What?
 We look forward to seeing you there!