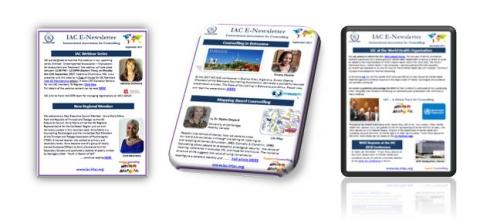 Dear International Counselling Colleague,
Please see the recent IAC e-Newsletters below:
Article Submission: Please follow the Guidelines HERE. We look forward to receiving your article. 
Advertising in the e-Newsletter: We offer the opportunity to advertise your Counsellor Education Program, Event, Book, or  Counselling-related product to a wide international audience by advertising in our e-Newsletter. Placing an advert in the IAC Newsletter opens access to a wide global readership of counselling students, practitioners, educators, and supervisors. Advertising with IAC is low-cost and supports the international development of the counselling profession.
Costs                              One Time                Three Times
Full Page:                       €350 (Euro)                €850 (Euro)
Half Page:                      €175 (Euro)                €450 (Euro)
Quarter Page:                €100 (Euro)                €250 (Euro)
Format: Please email the advert, as an attachment, directly to ceo@iac-irtac.org in one of the following formats: MS Word or a high resolution PDF. The page size (full, half or quarter) is based on a standard A4 sheet, so please consider what you think might look best. As it is an electronic newsletter, clickable links (from text, not jpeg's) to more information (e.g. on your website) can be embedded.
Payment: Can be made by credit card, bank transfer or Paypal. 
Thank You