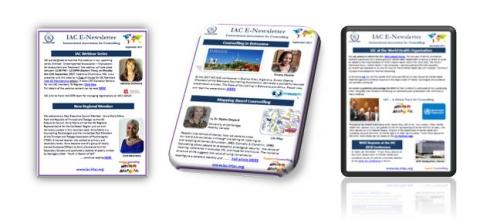 Dear International Counselling Colleague,
Please see the recent IAC e-Newsletters below:
We offer the opportunity to advertise your Counsellor Education Program, Event, Book, or  Counselling-related product to a wide international audience by advertising in our e-Newsletter. Placing an advert in the IAC Newsletter opens access to a wide readership of counselling students, practitioners, educators, and supervisors. Advertising with IAC is low-cost and supports the international development of counselling.
Costs                              One Time                Three Times
Full Page:                       $400 (USD)                $1,000 (USD)
Half Page:                      $200 (USD)                $500 (USD)
Quarter Page:                $100 (USD)                $250 (USD
Format: Please email the advert, as an attachment, directly to ceo@iac-irtac.org in one of the following formats: MS Word or a high resolution PDF. The page size (full, half or quarter) is based on a standard A4 sheet, so please consider what you think might look best. As it is an electronic newsletter, clickable links (from text, not jpeg's) to more information (e.g. on your website) can be embedded.
Payment: An invoice is issued and payment is made by bank transfer to the following account: 
 International Association for Counselling
Bank Details:                            Bank of Valletta, 2 St James street, Siggiewi SGW 1609 – Malta. 
Account Number:                    40019810924
BIC (Bank Identifier Code):    VALLMTMT
IBAN (International Bank Account Number): MT15VALL22013000000040019810924
Bank charges are the responsibility the party making the transfer. 
Payment can also be made through PayPal
Thank You