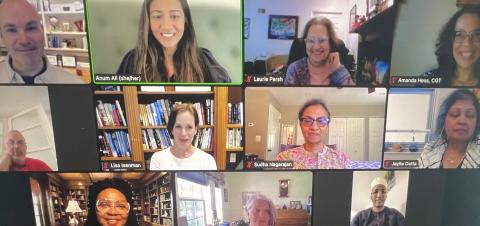 IAC's Counselling Practitioners Roundtable, a forum for international practitioners to come together to discuss practice and research across multicultural contexts, met on May 26 with participants from around the world.
After introductions, IAC Counselling Practitioners' Roundtable Chair Nate Perron shared IAC updates including activities with UN and national association partners, information on IAC's international conference in Naples in 2024, a summary of redefined world regions, and review of the Universal Declaration of Ethical Principles for Professional Counselors.
Members contributed their research and expertise on: 
broaching in counselling and international implications

a collaboration between the

American Mental Health Counselors Association

 and IAC to provide guidelines for the practice of telehealth

counselling issues in Kenya, including stigma, radicalization, poverty, and the need for more government support

cultural awareness and connotations of the term Desi to describe South Asians

the effects of cross-cultural issues on suicide prevention
 ...and more.
 The next meeting will be at the end of July on Zoom (date tbd), and all IAC members are welcome. Contact Nate Perron to learn more.