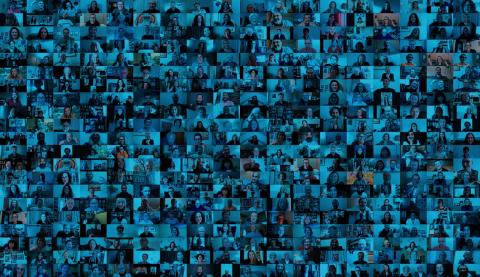 by Heather Anne Keyes
As anyone who has ever been on the business end of a registration or a budget spreadsheet for a conference can attest, it´s not the same as being a participant. So, after about eight solid years of organizing national and international conferences for and with Gestalt therapists, I was still hungry to actually meet my colleagues. As someone who can geek out about human beings, I needed to come up with a socially acceptable way of exploring some of those more intimate, personal spaces without making it look like I was trying to date my way through the world´s therapist population.
After a very little elaborate thought, Humans of Gestalt was born from a list of questions I decided I would like to have conversations with people about. A little graphic design magic, a few clicks on youtube, and the buying of www.humansofgestalt.com later, we had a primitive non-podcast. Humans has now grown over more than 3 years into the nearly 500 episode documentary narrative project that it is now in somewhere between 8-11 different languages and has been viewed 195 thousand times for 29.4 thousand hours by people in 74 countries.
The timing of the project´s creation was perfect, as little did we all know how important connection over Zoom was going to become in early 2020, and indeed the relationships between the growing team of volunteer interviewers, viewers and interview guests has been enriching and rewarding beyond words, especially through the pandemic. I have had the bittersweet experiences of attending virtual memorial services for guests I had only just met as well as the satisfaction of feeling like I had managed to capture tiny fragments of dear friends and mentors before their passing as well. We have all read words of appreciation from around the world from people who through the project have been able to see their teachers, friends and loved ones in a new light through the interviews.  I am in the process of waiting to see if there is a space in the conferencing world to present the project as a different perspective on the Humans behind the book-writing, lecture-giving, theory-popping academics and clinicians we usually get to meet.
Given the timeframe of the evolution of Gestalt therapy, I have also had the privilege of gathering remembrances of one of the founders directly from her students around the world and of hearing from people who watched the whole process take its baby steps and test drives in their living rooms and over dinners and drinks. It has been an immensely validating and gratifying experience to find such resonance within the international therapeutic community with my own human curiosity, and will be something which continues to shape my path as a project-creator, Gestalt therapist, and international Human for years to come.  It has made the world seem smaller and bigger at the same time, and has created a deep sense of warm familiarity among people who used to be simply colleagues or strangers.
Finally, but not to diminish the magnitude of the feat, Humans has been uniquely able to intentionally center voices, faces, practices and identities of Gestalt therapists who are not typically on the (white/anglo/hetero/cis normative) speaker lists for big-ticket events, and has opened spaces in radical ways by holding them the same way for beginner students as we have for the "elders" in the field. It has been a gift to watch the project be carried through so many languages and cultures, allowing us to witness a kaleidoscopic display of diversity at work and play. I have no idea where Humans of Gestalt will go, but you are welcome to follow us as we figure that out. Learn more at www.humansofgestalt.com.